This option is accessed by going to the Menu → Home Settings → System Settings. This option is located under Set Point Controller.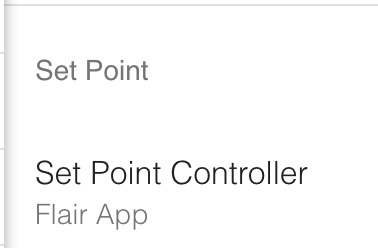 If you select Flair App as your Set Point Controller, you will see a slider at the bottom of the menu screen labelled "Set Point for Home." The Set Point for Home setting is used as the default temperature set point for each room in your home. Flair will use that temperature set point and periodically push it to your thermostat.
Set Point for Home can be useful if you use IR-controlled devices to heat and/or cool your home and want to create a set temperature throughout your home.
In this mode, Flair will still adjust Smart Vent positions and will also make incremental changes to your smart thermostat. For instance, if your rooms are too cold, Flair will adjust your smart thermostat's set point higher to get more heat into your rooms. If your rooms are too hot, Flair will nudge your smart thermostat's set point lower so there is less heat coming into your rooms.

Create a Set Point for Home: