Follow these instructions to add Smart Vent(s):
Keep Smart Vents close to an existing Gateway Puck - this ensures their signal can quickly be discovered by Flair
In the Flair app, tap the PLUS sign
Select "Add new Smart Vent"
Flair will enter Setup Mode and discover the Smart Vents
When the Smart Vents are discovered tap a Smart Vent to add it to a room (this is optional - Smart Vents can be added to rooms later)
Tap "Done with Setup" to exit Setup Mode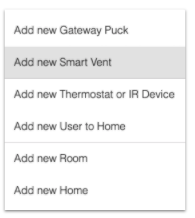 In Setup mode, Vents will rotate through a light pattern. It may take up to 5 minutes for Smart Vents to appear in the Flair app.
Once discovered, Vents will display a fixed unique light pattern. Match this patter to he pattern displayed in the app to find the 4 character Vent id.
In this example, the three discovered Vents are showing their unique light patterns.
Tap a Vent it to assign it to an existing room, or create a new room.