On this page:
---
What is Second Stage Heat / Virtual Dual Fuel?

For homes with central heat (forced air, boilers, electric baseboard heat, etc.), as well as mini splits capable of heating, Flair leverages both systems in a staged and complementary way.
Flair uses outdoor temperature data to automatically determine which system to use. This allows Flair to use mini splits as first-stage heat, and a central system as second stage. The switch-over and switch-back temperatures are user-configurable. Other options include the ability to select whether to use central heat instead of mini splits, or to use central heat to supplement the mini split's heat.
---
Why would I want this?
Mini splits offer room-by-room control. This is in distinction to central forced air or boiler systems that heat entire homes.
Most mini splits are electric heat pumps, which means they can only efficiently heat a home within certain outdoor temperature ranges (typically above 30–40ºF).
In addition to being very efficient, mini splits are electric. Unlike traditionally-fueled furnaces and boilers, mini split heat pumps can heat a home without burning oil/propane/natural gas. They are a carbon-free solution to heating.
This combination allows Flair to provide a decarbonization and electrification solution, which qualifies users for some fantastic rebates in certain regions. Flair provides a zero-carbon heating solution for most heating needs, while also being able to switch to traditional heating for the coldest days.
---
Requirements
You must have
A Pro Edition Puck for each mini split head unit. These are available via supply houses and distributors listed on flair.co/integrated-controls.
A smart thermostat must be integrated in your Flair App.
At least one mini split heat pump configured on the Flair App that is capable of heating.
Set Point Controller must be set to "Flair App":
Each room with a mini split must belong to both the central-heating system and the mini split's Zone in the Flair App.

You can select zones for each room in the Flair App as follows:


---

Enabling and Configuring Secondary Heat
Navigating to the Secondary Heat Menu





There are three options for secondary Heating:

Disabled
When disabled is selected, Flair will not provide staged heating.
Cutover
When Cutover is selected, mini splits will be used for heat until the outdoor temperature is below the Cutover Temperature. At that temperature, the mini splits will be turned off and central heat will be enabled.
Once the outdoor temperature exceeds the Cutback Temperature, the mini splits will be reenabled and central heat will be turned off.

Supplemental Heat

When Supplemental Heat is selected, the mini splits will be used at all times. The outdoor temperature will be used to determine when to supplement with central heat.
When the outdoor temperature is below the Enable Supplemental Heat Temperature, central heat will be enabled. When the outdoor temperature exceeds the Disable Supplemental Heat Temperature, central heat will be disabled.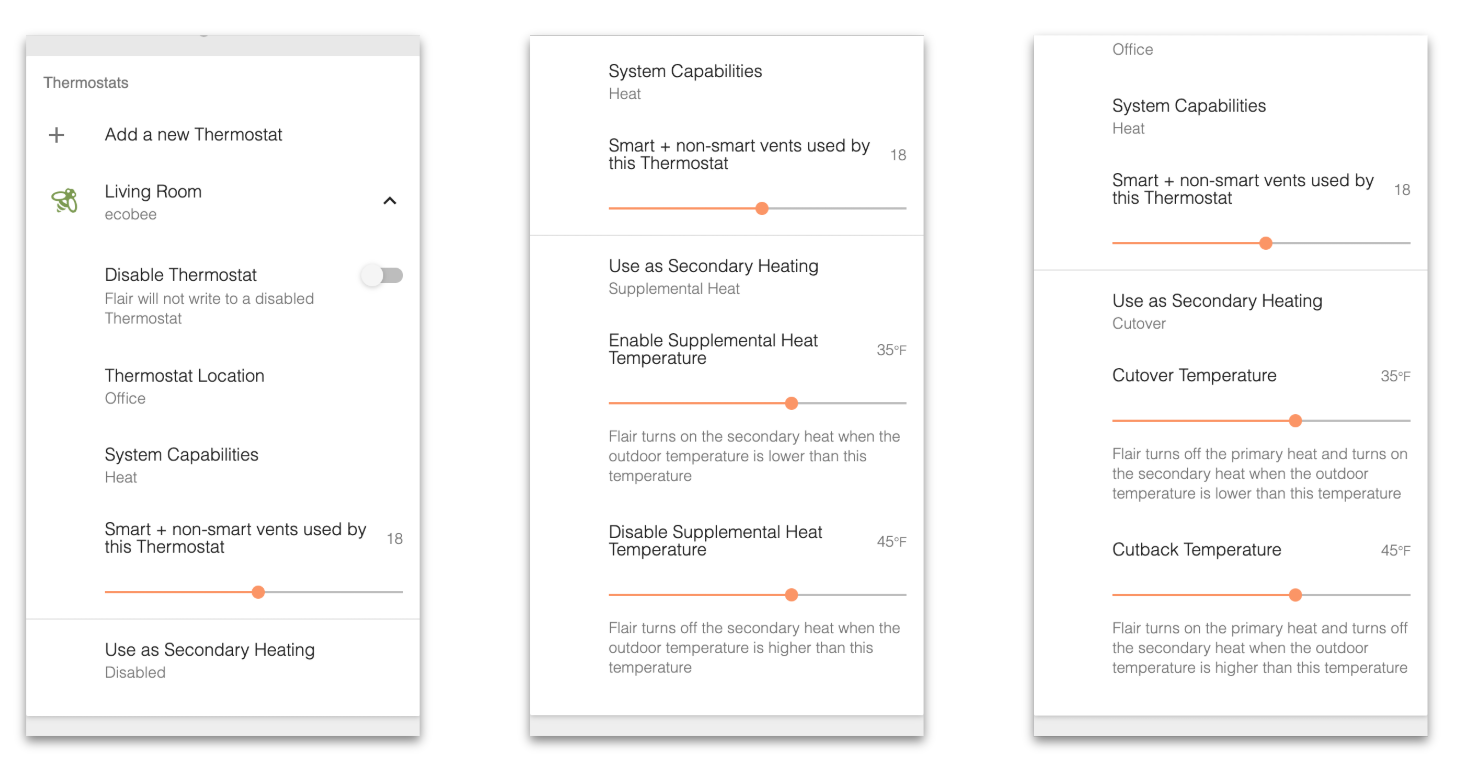 Required Settings

Flair also recommends the following system settings for best results when using secondary heating:
Away Mode: Smart Away
Set Point Mode: Flair App
Verifying your Secondary Heat Configuration

Currently, verifying secondary heating configurations is best accomplished by adjusting the cutover/cutback or Enable Supplemental Heat/Disable Supplemental Heat Temperatures below or above the current outdoor temperatures to trigger the switch over. We plan to release a future enhancement for testing/verification to better support scenarios where outdoor temperatures aren't conducive to testing. One workaround is to change the zipcode for the structure and then to change the temperature sliders under Secondary Heat. After testing, be sure to set the zipcode back to the original/correct zipcode.