Flair can use temperature readings from remote sensors in rooms with Smart Vents.
Note: Every Flair system needs at least one Puck connected to your home WiFI and plugged into power using the supplied cable and adapter.
If you plan to use one Flair Puck and use remote sensors in the rest of the rooms, place your Gateway Puck in a centralized location to provide good signal strength to all the Smart Vents. Read this article to make sure you have enough Gateway Pucks: "How many Gateways do I need?"
Adding Remote Sensors to Rooms
During Setup, when integrating an ecobee or Honeywell smart thermostat, Flair will automatically import any remote sensors associate with the smart thermostat. After Setup, follow these instructions to add remote sensors to rooms:
In the Flair app, tap the 3-dot menu on the room tile and go to Settings
Select Devices
Expand "Remote Sensors"
Check the remote sensors to use in this room
In this example, this room is using a remote sensor named, "Rec Room".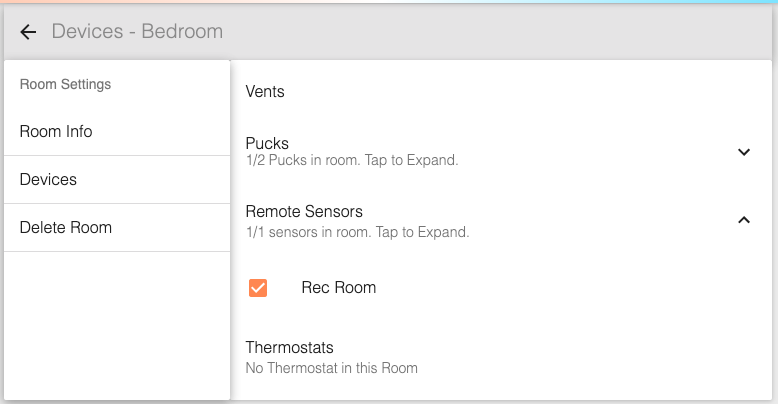 To use the occupancy feature of remote sensors, see Remote Sensor Occupancy.