Pucks
Pucks come with a cable and adapter for plugging into a standard outlet and two AAA batteries. With normal usage, batteries last about a year. Flair monitors battery life and will send an email alert when low.
Gateway Pucks
Every Flair system must have at least one Puck plugged into power that we call a Gateway Puck. Gateway Pucks are the communication hubs and connected to home WiFi. The extra power draw of WiFi requires the Puck to be plugged in using the supplied USB cord and adapter.
Sensor Pucks
Sensor Pucks are not connected to WiFi and use RF to communicate with Gateway Pucks. These can be powered using the supplied AAA batteries or plugged in using the supplied USB cord and adapter.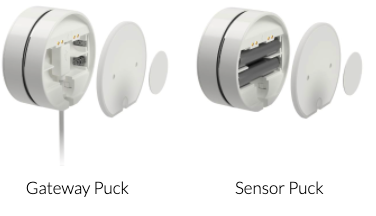 Additional Puck Powering Options
The Flair USB Mount is great option for new installs. Its custom design fits snugly into walls for a secure placement.
The USB Wall Plate easily snaps into any outlet - no electrician required! It's cost effective and code compliant.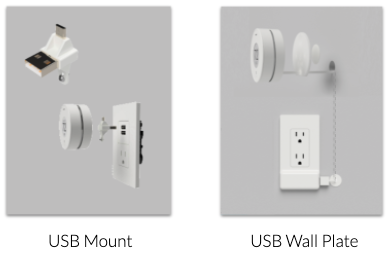 Smart Vents
Smart Vents come with two C batteries and can be optionally wired using a 24 VAC transformer (not included). With normal usage batteries last about 3-4 years.

Low Battery Alerts
Flair monitors battery life and will send low battery alerts by email and/or push notification. You can sign up for notifications in the Flair app in the Account Settings menu.

Replacing Batteries
Flair recommends replacing batteries with lithium batteries, as these will provide the longest life.
Alkaline and rechargeable batteries may be used, but may not last as long - and rechargeable batteries may result in false low battery alerts.