When is a Light Bar On?
During normal operation, the Smart Vent light bar is off. A Smart Vent's light bar will come on in two cases:
When initially inserting batteries - or when inserting batteries after resetting a Vent
During Setup Mode for identification during the Setup process
What are the Light Bar Patterns?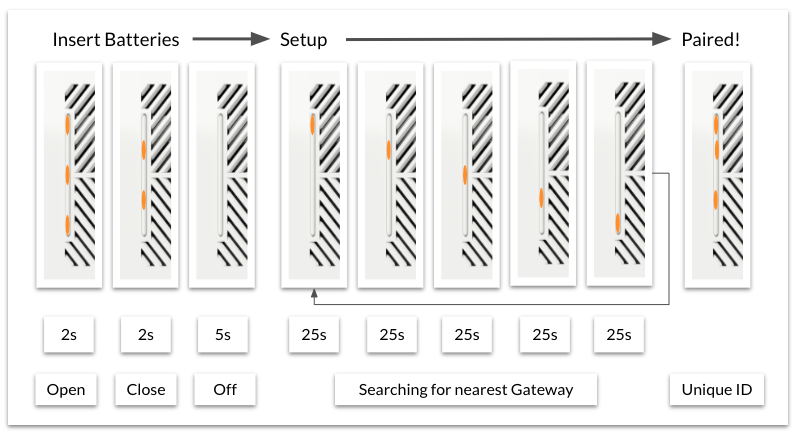 Insert Batteries
When batteries are inserted, a Smart Vent will open and close its louvers and display a 3-2 light pattern, then turn off the lights. There is a two second interval between the three-bar pattern and the two-bar pattern.
Setup Mode
While the Flair app is in Setup Mode, the Smart Vent lights will cycle in a pattern until the Vent pairs with a Gateway Puck. This can take up to five minutes. After 30 minutes with no pairing, Smart Vent lights will turn off to save battery life. Turn on Setup Mode again to restart the discovery process. While cycling, the interval between lights is 25 seconds.
Paired
When a Smart Vent pairs with a Gateway, the Vent will display its unique light pattern until Setup is exited, or after 30 minutes (to save battery life). Vents will display their pattern any time Setup is entered, or batteries are replaced. When a Vents are discovered during Setup Mode, their vent icons will display their unique light pattern, along with a four character ID and the Vent name.
This Smart Vent has a light pattern of one light on the far right side. The four character ID is "4ef6" and the Vent name is "Living Room".