There are times you may want to operate Smart Vents manually:
If you have a vent in a hard to reach place, like an attic
If you have two vents in the same physical room that you want to operate differently
If you have a ceiling vent you want opened in the summer and closed in the winter
There are two approaches:
Manually, using the Vent Widget
Setting the room to Active/Inactive
Using the Vent Widget
The Vent widget has a slider that allows you to open and close a Vent manually.
Note: It may take 30-60 seconds for the command to propagate to the Vent.

The Vent widget is displayed by setting "System" to "Manual" in the Flair app. You'll be able to open/close each Vent independently with the Vent widget. You may want to try this to get a feel for how it works.
The Vent widget is also displayed when a room has no Puck. This is a convenient way to use the Vent widget when you need "System" set to "Auto".
Note: While operating Vents manually does not require a Puck in the room, you will need at least one Gateway Puck for your Flair system. See: using a Puck as a dedicated networking device.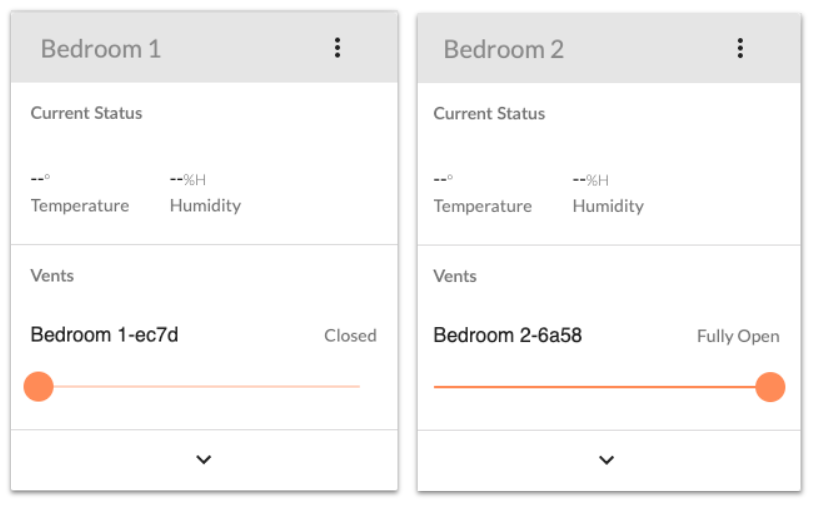 Using Active/Inactive
Setting a room to Inactive will close the Vent, and setting the room to Active will allow Flair to operate the Vent based on the Puck readings in the room.
If you go this route for Vents that are physically in the same room that you want to operate separately, place each Vent in its own room in Flair.
Here's an example where we have two rooms, Bedroom 1 and Bedroom 2, that each contain a Smart Vent. In reality, both Smart Vents are in the same physical room, but in separate rooms in Flair.
Here we set Bedroom 2 to close the Smart Vent.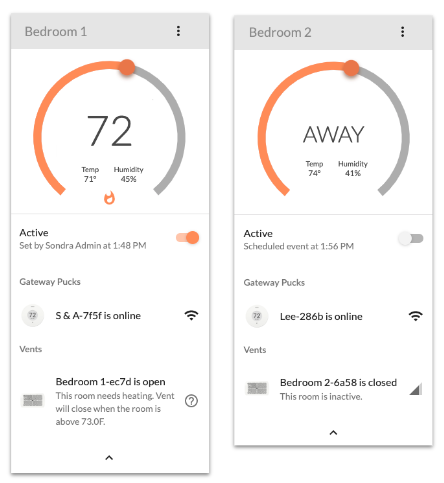 Here we set Bedroom 1 to Inactive to close the Smart Vent in Bedroom 1.