Flair's scheduling feature allows you to create a schedule for each room in your home. Flair supports creating multiple schedules, but allows you to active one at a time.
Scheduling is also a powerful way to prioritize rooms at different times of the day to get better temperature control. For example, setting bedrooms active at night and inactive during the day.
Default Schedule Behavior
In the absence of a scheduled event, a room will follow the Home Set Point.
This schedule sets the Guest Bedroom to 70F at night, but during the day, there are no schedule events, so the room follows the Home Set Point during that time period.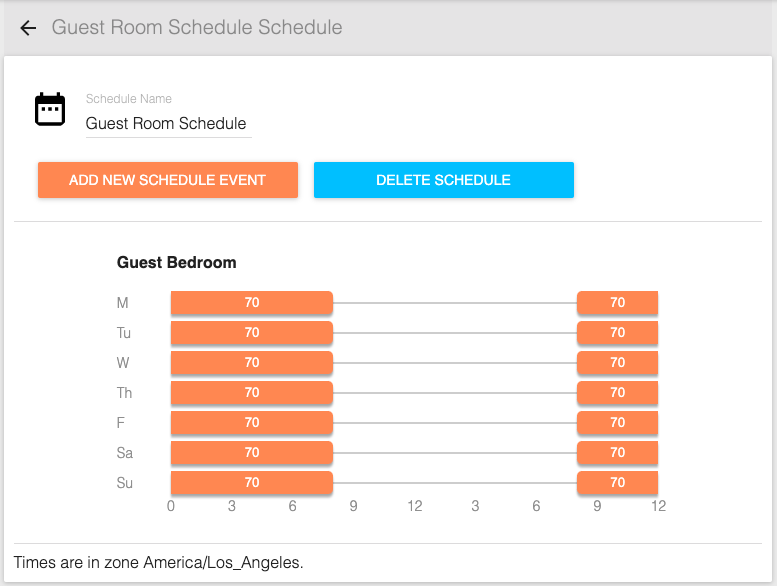 Scheduling and Occupancy
A scheduled event will take priority over occupancy events. If you want a room to follow occupancy events from remote sensors, don't schedule any events for those rooms during the specific days and times.
In this schedule, the Bedroom is scheduled be active at night and inactive during the day. But the Living Room has remote sensors, and will use occupancy data all day to determine when the room is active or inactive, so no schedule events are created for this room.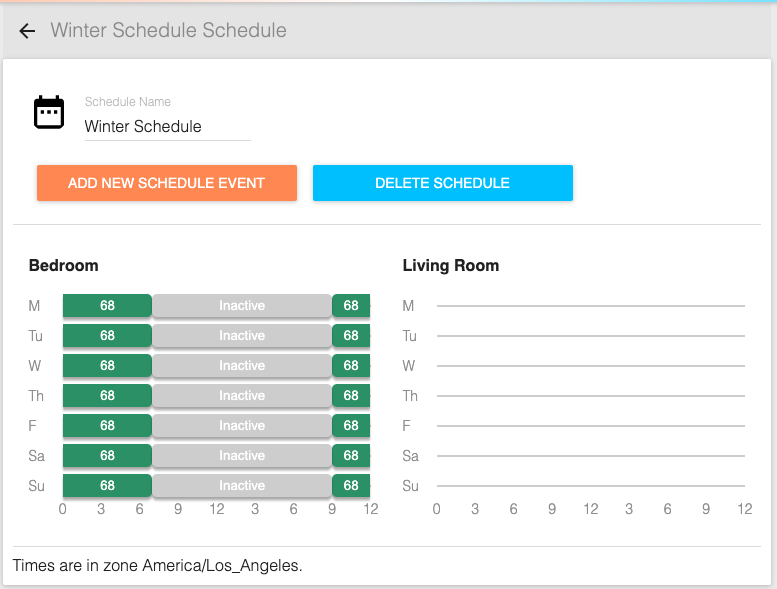 Create a New Schedule
Create a schedule and add schedule events for the days and times you want to set different set points - or to set rooms to inactive.
In the Flair app, tap Schedule in the control bar, and then select "Create New Schedule"
Under Schedule Name, enter a name for the schedule
Tap "Add New Schedule Event" to create a new schedule event
If setting the room to inactive, change "Schedule Event Mode" to Inactive - or use the slider to set the "Schedule Event Set Point"
Set the Start and End times for the schedule event
Check the days of the week that this schedule will apply to
Check the rooms that this schedule will apply to
Tap Done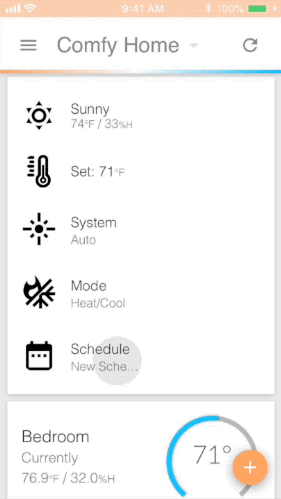 Edit a Schedule
In the Flair app, tap Schedule in the control bar, and then tap the gear icon next to the schedule name you want to edit
To delete a schedule, tap "Delete Schedule" and confirm - or tap a schedule event to edit
In the "Edit Schedule Event" screen, make the necessary change - or tap Delete to remove the schedule event
Tap Done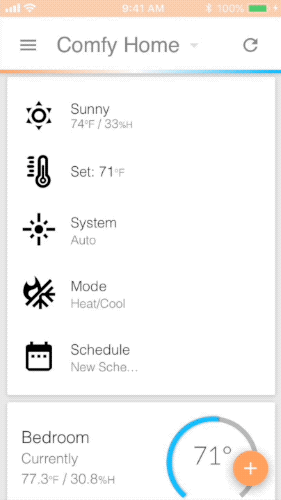 Activate a Schedule
In the Flair app, tap Schedule in the control bar, and select the name of the schedule to activate (not the gear, just the schedule name). To have no schedule active, select "No Schedule".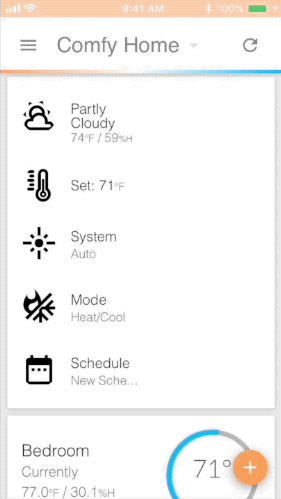 How do I schedule turning off my Mini Split?
Create a schedule event for the times you want the mini split to be turned off and set "Schedule Event Mode" to Inactive.
Go to Home Settings->Away Settings and set "Away Mode" to "Off Only" - this tells Flair to turn off mini splits when you are Away - or when a room is set to inactive.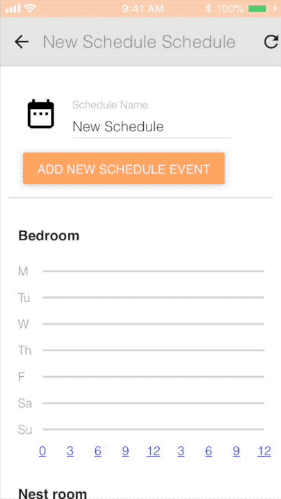 Scheduling and Smart Thermostats
To avoid scheduling and set point conflicts, use the following guideline for scheduling based on the Set Point Controller:
If using Flair Set Point Controller, turn off scheduling in your smart thermostat and use scheduling in Flair. Note: This includes all comfort modes assigned to ecobee sensors.
If using Thermostat Set Point Controller, use scheduling in your smart thermostat.
If you schedule an event in a room with a smart thermostat, Flair will adjust your smart thermostat to the set point in the schedule. This happens whether you're in Flair Set Point or Thermostat Set Point mode.
For example, if you set the location of your ecobee thermostat to the Living Room in Flair, and you create a schedule that sets the Living Room to 70F at 6pm, Flair will send a request to your ecobee to set itself to 70F at 6PM.
Scheduling and Holds
If you set a hold and a schedule event for the same time, the hold will always take priority.
See also Flair Priority and Room Holds