In Flair, a zone is created when a thermostat a mini split, window unit or portable is added. A room is then associated with the zone that controls it.
For example, adding a thermostat called "Downstairs ecobee" will create a zone called "Downstairs ecobee". If that thermostat controls the Basement, Kitchen, Living Room and Hallway, you'll want to make sure those rooms are associated the "Hallway ecobee" zone.
Manage Zones
Flair's zone viewer allows you to view and edit the rooms associated with a zone.
To manage zones, go to to Home Settings->Zones.
Select the zone, then check the boxes for the rooms in the zone. The room containing the thermostat or IR device will already be included in the zone under "Location".
In this example, the thermostat named "6273940" is located in the Hallway and is associated with the Dining Room, Family Room and Kitchen.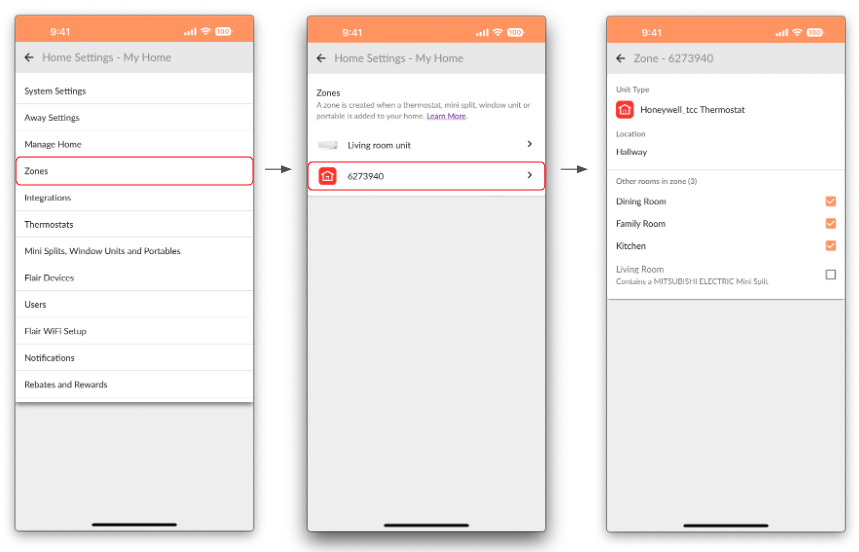 Manage Zones in the Room Tile
To manage the zone for a specific room, tap the room to view the room tile. Then tap the 3-dot menu, and select Settings->Room Info.
Confirm the room is in the correct zone (the correct box should be checked for the thermostat, mini split, window unit or portable controlling this room).
If using Mirror Mode, or Secondary Heat, the room must be in both the mini split zone and the thermostat zone that it is following.
In the Flair app, tap the 3-dot menu on the room tile and go to Settings
Select Room Info
Check the boxes for both zones
In this example, the Living Room is in the "Living room unit" zone.