Schedule a Webinar
To schedule an interactive webinar, contact pros@flair.co.
To view a recorded webinar: Puck Pro as an integrated control
Flair Puck Pro

Flair introduces Puck Pro, the integrated control that seamlessly connects mini splits to an oil-fueled heating system to provide efficient heating all winter long!
Mini splits become less efficient as outside temperatures get close to freezing (typically below 30–40ºF) - but oil-fueled systems work more efficiently at these very low temperatures.
Puck Pro will leverage the efficiency of your heating systems by intelligently switching between them based on the outside temperature.
How does it work?
Flair uses outdoor temperature data to automatically determine which system to use. This allows Flair to use mini splits for first-stage heat, and a central system for second-stage heat. The switch-over and switch-back temperatures are user-configurable.
Flair uses WiFi to communicate with the smart thermostat and IR signals to communicate with the mini splits.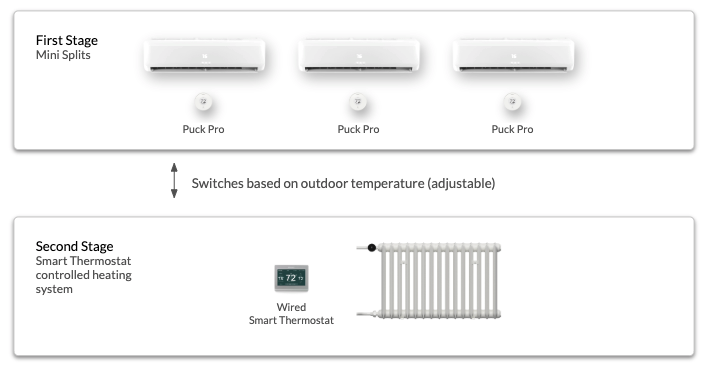 Does Puck Pro qualify for rebates?
Yes! If you live in the Northeast, you can qualify for some awesome rebates using the Puck Pro with a new mini split system. Puck Pro is only available through qualified HVAC contractors and to qualify for rebates, Puck Pro must be professionally installed, so ask your HVAC contractor about Puck Pro.
Contact us to get connected to a qualified HVAC professional near you. Rebates are generally for customers using mini splits with electric resistance heat or mini splits with oil or LP burning boilers.
How will I save?
In addition to being very efficient, mini splits are electric. Unlike traditionally-fueled furnaces and boilers, mini split heat pumps can heat a home without burning oil/propane/natural gas. They are a carbon-free solution to heating. This saves you money while helping our environment.
Secondary heating with Flair Puck Pro allows Flair to provide a decarbonization and electrification solution, which qualifies users for some fantastic rebates in certain regions. Flair provides a zero-carbon heating solution for most heating needs, while also being able to switch to traditional heating for the coldest days.For more information on rebates, visit flair.co/integrated-controls to learn more.
What else does Puck Pro offer?
Mini split automation via Flair app
Room-by-room temperature control of mini splits
Home/away mode
Scheduling
System Requirements
To qualify for rebates, Puck Pros must be installed professionally. The following requirements are for the Flair secondary heat feature:
A Pro Edition Puck for each mini split head unit. These are available via supply houses and distributors listed on flair.co/integrated-controls.
A smart thermostat must be integrated in the Flair App. The list of compatible smart thermostats is available at flair.co/integrated-controls
At least one mini split heat pump configured on the Flair App that is capable of heating.
Installation and Usage
Please see our installation guide.