The Flair Puck Pro is a professional grade Puck with exclusive features for installers and contractors. The Puck Pro can be used as an integrated control to switch between dual fuel systems, based on outside temperature.
Approved for Energy Rebates in the Northeastern States (MASS Saves, PSEG, NYSERDA, etc)
The only wireless integrated solution
Only available through distribution channels
Not available on Amazon or other online resellers
Access to Pros only features, including staged heating
Extended 2 year warranty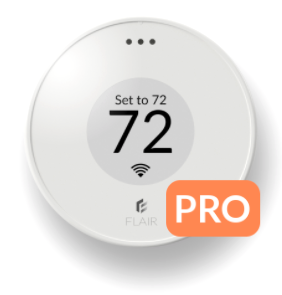 Flair Puck Pro can be purchased through distribution channels. Flair is currently available through the following distribution partners. Contact us at pros@flair.co if you want your local supply house to carry Flair Puck Pro.
Supply New England
FW Webb
Baystate Winair
Bell Simons
Plumbers Supply
Johnstone Supply
Ferguson
Are you a homeowner interested in having Puck Pros installed? Contact one of our distributors or contact your location HVAC installer to inquire about purchasing a Flair Puck Pro