ecobee schedules can't be disabled. This is problematic for Flair systems using Flair Set Point Controller. An ecobee scheduled event will kick in and change the set point.
There are a few steps to disabling an ecobee schedule and preventing ecobee set point changes from interfering with Flair:
Change ecobee Default Hold Duration
On the ecobee, go to: Main Menu->Settings->Preferences->Hold Action and set it to "Until you change it".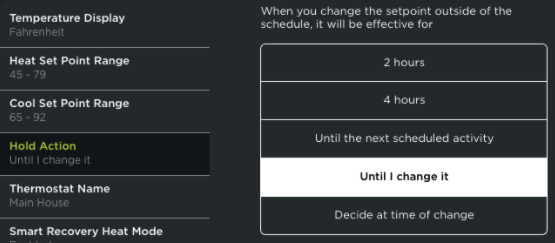 Disable ecobee Smart Home/Away
If Flair's Away Settings are set to "App Geolocation" or "Manual", then disable ecobee's "Smart Home/Away" setting.
On the ecobee, select: Main Menu->Sensors->Smart Home/Away, and set set it to "Disable".
More recent versions of the ecobee may have Smart Home/Away in the eco+ menu. See above for disabling eco+.