Overview
The System Setting is located in the Control Bar, at the top of the Flair app.

The System setting has two values: Auto and Manual.
Manual mode is generally used for testing and troubleshooting a Flair configuration - or if you want to operate Smart Vents or mini splits manually using the widgets in the Flair app. In Manual mode, the Flair automation does not run.
Most systems run in Auto mode. If you want automation, set System to "Auto".
Manual Widgets
In Manual mode, the Flair app will display widgets that allow you to manually operate devices.
Below you can see two examples of Flair widgets. On the left is a Vent widget with a Vent slider. On the right is a mini split widget with controls to issue commands to the mini split.
Note: In Manual mode it may take up to 30 seconds for a Smart Vent or a mini split, window unit or portable to respond to a command.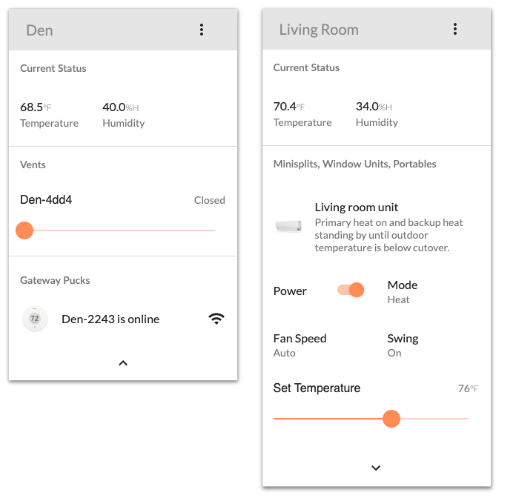 Open Vents 50%
Smart Vents can be opened 0 - 50% - 100% in Manual mode. In Auto Mode, the Smart Vents are either 100% open or closed.
Dry Mode for Mini Splits
For mini splits that support it, Flair will allow setting Mode to "Dry" when System is set to Manual. This will appear under the Mode menu in the mini split widget. The modes supported by Flair are as follows: Auto, Heat, Cool, Fan, and Dry. If a mode is not supported by the mini split, it will not appear in the menu.
For mini splits that do not offer a Dry mode when the Flair system is in manual, you can still accomplish some dehumidification by running the mini split in COOL mode with the FAN on its lowest setting. This mimics Dry mode as it lowers the mini split's fan speed so that the humid air moves more slowly over the cooling coil and loses more moisture than it otherwise would.


See: System Auto