Rooms can be set as active or inactive using a switch on the room tile, through scheduling, or by setting your home to Home or Away. Setting your home to Away sets all rooms to inactive.
Note: Flair may use inactive rooms as "dump rooms" by opening Smart Vents to "dump" excess air to these rooms. This assists with back pressure protection by allowing Flair to close more Vents in active rooms.
Active Switch
Toggle the Active switch on a room tile to set a room to active or inactive.
Note: The "Active" label does not change. Text description below the label describes the last action that was taken to set the room to active or inactive. It may indicate an occupancy event, when the Active switch was toggled or whether the home is set to Home or Away.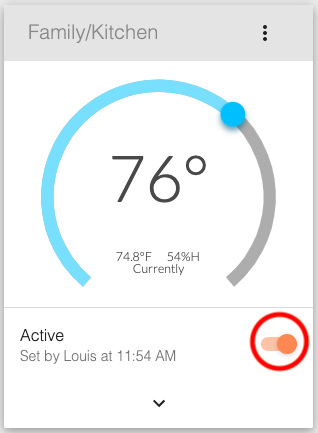 Active Room
Flair will follow set points, holds and schedules in an active room.
In this example, Joe toggled the room to active at 2:29 PM. The mini split turned on and is holding at 69F.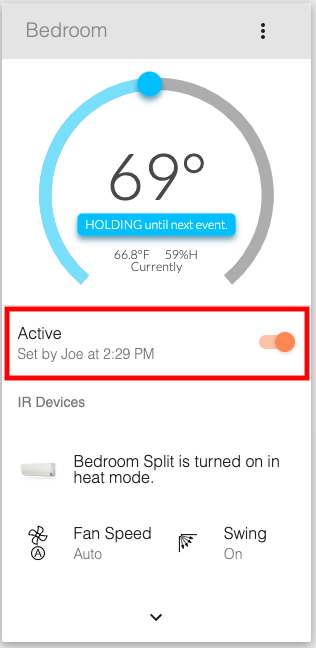 Inactive Room
Flair does not maintain set points, holds or schedules in inactive rooms.
For mini splits, Flair will follow the Away Settings defined for your Flair system.
Smart Vents will remain in their last position.
In this example, the Bedroom was set to inactive by a schedule event at 7:00 PM. The Away Settings for this home are set to "Off Only" so the mini split is turned off when the room is set to inactive.